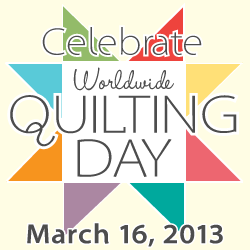 Click Here for More Info
No tip today. But in honor of Worldwide Quilting Day we wanted to share some beautiful antique quilts from the collection of Utah quilt appraiser Sandra Starley.
Sandra is  a nationally certified quilt appraiser, historian, researcher, quilt collector, lecturer, designer and instructor who recently came by the Handi Quilter offices. Sandy has an extensive collection of antique quilts (early, unusual and masterpieces) and spent a couple hours with us sharing many of her quilts that span  about 100 years — from early 1800s through early 1900s.
Sandra is to the right in the photo above, with HQ Studio Educator Marie Eldredge next to her and Sandra's sister Donna at the left side of the photo. That table was stacked with about 30 to 35 quilts! We were just getting started.
We had the pleasure of seeing three feathered star quilts. You can see two of them above — one in red, white and blue, and one is red and cream. The third one was blue and white. All were exquisite.
How do you like this honeybee block quilt? You can see some of the beautiful quilting in this close-up photo.
Sandra had several log cabin quilt tops, as well as a variety of hexagon quilts.
You can see a close-up of the quilting in this photo. Simple but effective stitching across the hexagons in each direction
And don't you love these two star quilts?
My favorites of the day were applique quilts.
And this unique "French Star" block.
More hexagon quilts, but from after the turn of the 20th century.
This two-fabric quilt fools the eye because it looks like there are more than two fabrics. The background stripe makes you think there are different fabrics. And what do you think about the "cheater cloth" used for the backing? Yes, this quilt dates from the mid 1800s — and cheater cloth was around even then.
Lastly, here's the show stopper. An antique baby quilt from before the Civil War. Simply gorgeous.
Sandra writes extensively about this quilt on her blog, Textile Time Travels.  She has even reproduced some of the blocks with current fabrics. Be sure to visit Sandra's blog to see these quilts, as well as many, many others.
Perfect inspiration as we celebrate Worldwide Quilting Day.